KC Benson Watercolors

Watercolor Paintings of Pristine Wilderness
KC Benson Watercolors

Watercolor Paintings of Pristine Wilderness
KC Benson Watercolors

Watercolor Paintings of Pristine Wilderness
KC Benson Watercolors

Watercolor Paintings of Pristine Wilderness
KC Benson Watercolors

Watercolor Paintings of Pristine Wilderness
KC Benson Watercolors

Watercolor Paintings of Pristine Wilderness
KC Benson Watercolors
Watercolor Paintings of Pristine Wilderness
KC Benson Watercolors
Watercolor Paintings of Pristine Wilderness
KC Benson Watercolors
Watercolor Paintings of Pristine Wilderness
KC Benson Watercolors
Watercolor Paintings of Pristine Wilderness
KC Benson Watercolors
Watercolor Paintings of Pristine Wilderness
KC Benson Watercolors
Watercolor Paintings of Pristine Wilderness
KC Benson Watercolors Can Be Found at the Following Galleries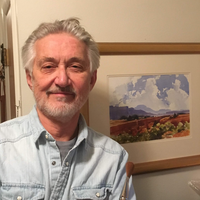 About the Artist
KC Benson's representational landscapes are accomplished entirely with transparent watercolors. Most of his paintings are achieved "alla prima",  without drawing and in the moment.  His appreciation of wilderness is expressed through his paintings of the mountains, lakes, canyons
and skies of New Mexico, Colorado, and the Southwest.
The sense of isolation and serenity is conveyed to the viewer like a mirror of his own deep and gentle soul.
Contact Me:
Please leave a message: (970) 586-3376 8:00 a.m. to 8:00 p.m. Mountain Time (USA)
Email: kcb@kcbensonwatercolors.com